When you select an Exchange distribution group as a recipient in Outlook, you should see a + sign to the right of the group's display name. If you click on it, you'll expand the distribution group and see a list of its members.
The first time you click on the + sign, a confirmation will appear:
Expand List
If you expand the list, Outlook will replace the list with its members. You will not be able to collapse it again.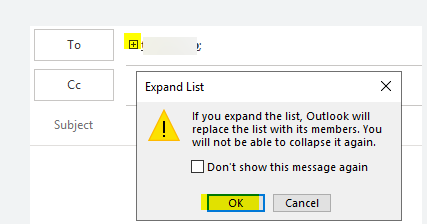 You can prevent or allow membership expansion of a distribution group in Outlook by using the DisableDLExpansion registry value (DWORD type).
To prevent expansion of distribution groups:
In Outlook 2019/2016 and Office 365, you need to create a registry item DisableDLExpansion = 1 under HKEY_CURRENT_USER\Software\Microsoft\Office\16.0\Outlook\Options\Mail.
For example, you can make changes from the command prompt:

REG ADD HKCU\Software\Microsoft\Office\16.0\Outlook\Options\Mail /v DisableDLExpansion /t REG_DWORD /d 1 /f

For Outlook 2013, you must create a parameter in the registry key HKCU\Software\Microsoft\Office\15.0\Outlook\Options\Mail
For Outlook 2010 – HKCU\Software\Microsoft\Office\14.0\Outlook\Options\Mail
Restart Outlook and check that the distribution groups are now no longer able to be expanded.
You can use the Group Policy Preferences to apply this registry item to all computers in an Active Directory domain.
If you want to allow distribution groups to be expanded, you must remove the DisableDLExpansion registry entry or change its value to 0.
This works in Outlook connected to on-premises Exchange Server or Exchange Online (Microsoft 365).
This setting only affects desktop versions of Outlook and does not prevent you from expanding distribution groups in Outlook Web Access/Outlook Web App.
You can also enable or disable the expansion of distribution groups using the Microsoft Office Administrative GPO Templates.
Install the ADMX GPO templates for your version of Office, open the Local Group Policy Editor (gpedit.msc) and navigate to User Configuration -> Administrative Templates -> Microsoft Outlook 2016 -> Miscellaneous. Find the option Do not expand Contact Groups. This policy is not configured by default. Enable this policy to prevent groups from being expanded in Outlook.

Also, note that you cannot expand the Dynamic Distribution List in Outlook. Dynamic groups have no pre-defined members and their composition is calculated when an e-mail is sent, using the conditions and filters configured.
If you try to expand a dynamic distribution list, a warning will appear:
Moderated public groups cannot be expanded.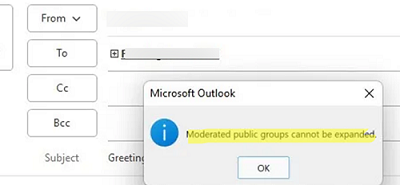 =